Curriculum Vitae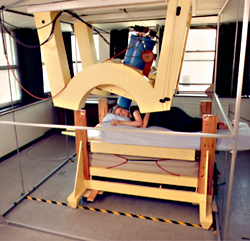 David studied at Parnham College under John Makepeace, graduating in 1981. Since that time he has completed numerous commissions for prestigious private, commercial and royal collections internationally.
He designs and makes all kinds of furniture and clocks, and a variety of other artifacts. Notable commissions have included three prototype brain scanning modules for Imperial College, Kensington, and cabinet making for Windsor Castle.
Other commissions, including an oak half-timbered barn, three different geometric staircases and several precision time pieces in hardwoods, are to be found in private, commercial and royal collections in England, New Zealand, Brussels, and Houston, Texas.
Selected Group Exhibitions & Awards
1980     The Hayward Gallery, South Bank
1981     The Royal Show, Stoneleigh
1983     The Barbican
1990/5  British Craftsmanship in Wood, Thirlestone Long Gallery, Cheltenham
1992     International Clock, Watch and Jewellery Fair, Basel, Switzerland
1992/3  Sotheby's Parnham House Degree Show (by invitation from John Makepiece)
1994     Harrod's Clock Department
1996     British Horological Institute
1998     Axminster Power Tool & Machinery Exhibition, Royal Bath & West
1999     As above, by special invitation
1999     Cnit La Defense, Paris
1999     Awarded Certificate of Excellence in Craftsmanship by The Worshipful Company of Furnituremakers
2001     Awarded a Guild Mark by The Worshipful Company of Furnituremakers.
            To date, only 316 of these prestigious marks of excellence been awarded by this Livery Company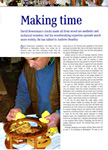 Note
The Worshipful Company of Furniture Makers is only the sixth Livery Company of the City of London to be formed since the reign of Queen Anne. Its membership consists of designers, manufacturers and others who work in or with the furniture industry in the United Kingdom.
To read an article about David Bowerman's clock designs in the Dorset Lives magazine .....please click here.